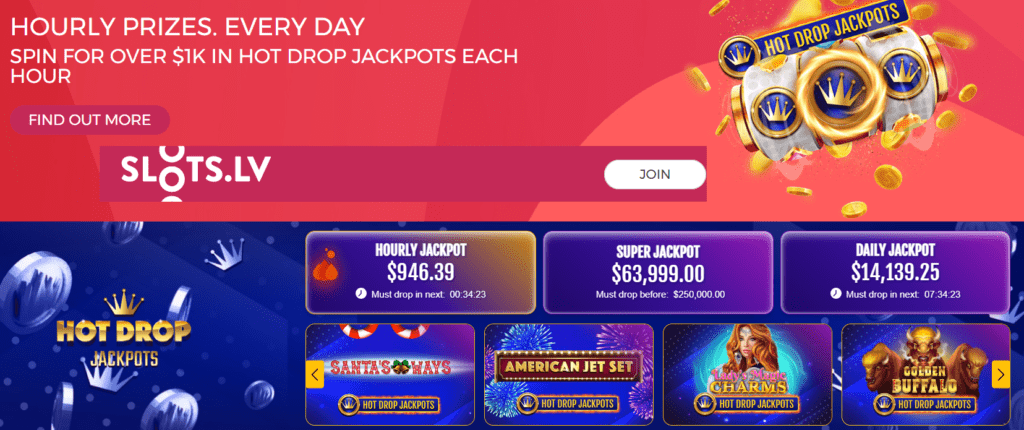 NEW Hot Drop Jackpots Every Hour @ SlotsLV Casino! Golden Buffalo, A Night With Cleo and 777 Deluxe Included!
Playing online slots is fun and exciting! Why not kick it up a notch by playing slots that also feature hourly Jackpots every day? At SlotsLV Casino you can do just that from the comfort of your home with their popular Hot Drop Jackpots!
How to Play Hot Drop Jackpots
You can play Hot Drop Jackpots by playing real money slots that offer them at SlotsLV Casino. Popular games such as Golden Buffalo, A Night With Cleo and 777 Deluxe are just a few of the exciting games that feature Hot Drop Jackpots hourly.
The prizes are offered inside each game are updated in real-time so you know exactly what the prize is at any moment. The way it works is when you notice the prize is getting close to reaching it's limit, that's when you want to hurry up and start spinning! What's even neater is that they also turn red to let you know that they are almost ready to explode!
Each slot offering has regular game play so you will be looking out for the Jackpot symbol. When you see 3 Jackpot symbols located anywhere on the reels, you have triggered the Wheel of Jackpots! What this means is you have now qualified for the hourly, daily and super Jackpots that are available to be won! So when the Wheel of Jackpots stops spinning, it's money time for you! A generous payout is headed your way.
Not familiar with SlotsLV Casino? Read our SlotsLV Casino review for even more information about this popular online gambling site.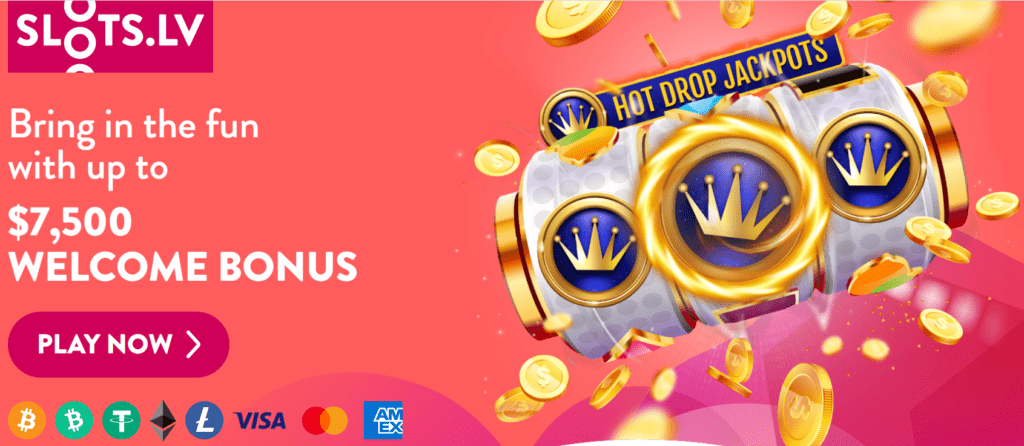 Three Types of Hot Drop Jackpots
HOURLY JACKPOTS
The way these work is pretty self explanatory. A Jackpot must drop before every 60 minutes is up. These carry a prize of up to $1k every hour, every day. As the time comes near, the hourly Jackpot will start to glow red. At this time you will want to start playing as it will give you the best odds at winning the Jackpot!
DAILY JACKPOTS
These Jackpots are when you can start making some real life changing money! These carry a prize pot of $25k on average each day. You can view the countdown timer in each game. You will want to keep an eye for it when it starts to turn red as that's when it's about to drop and you can really strike it rich! So much fun.
SUPER JACKPOTS
Say hello to the Big Kahuna! This is the one we all want to win, bay-bee! Ladies and gentlemen, we are talking about a HUGE payout of up to $250k! Wow. The way this one works is a little different than the other two. While the hourly and daily Jackpots must be won on a time limit, the Super Jackpot must be won before it reaches the prize amount of up to $250k! So when it starts getting red and ready to drop, you know it's time to get busy on those wheels!
Ready to try Hot Drop Jackpots? You can visit SlotsLV Casino and play for FREE and then play for REAL MONEY once you are ready to try your luck! GOOD LUCK!