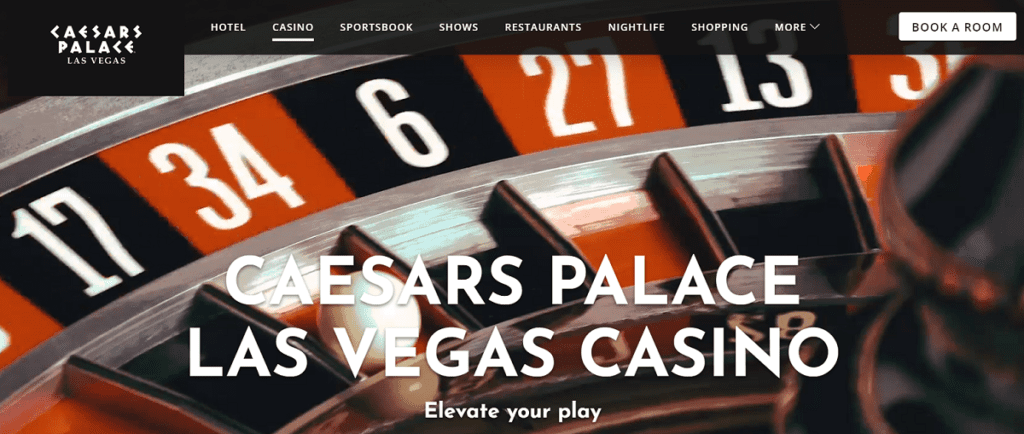 Caesars Palace Las Vegas Review 2023
Welcome to Caesars Palace Las Vegas Hotel & Casino! Located on the famous Las Vegas Strip, Caesars Palace is the epitome of luxury and entertainment. With its Roman-inspired architecture, opulent accommodations, world-class dining options, and thrilling casino, this iconic resort offers an unforgettable experience for guests of all ages. Whether you're looking to relax and rejuvenate, indulge in exquisite cuisine, or try your luck at the gaming tables, Caesars Palace has it all. Join us as we take a closer look at the many attractions and amenities this legendary hotel has to offer.
Explore the Luxurious Accommodations at Caesars Palace
At Caesars Palace, luxury knows no bounds. The hotel boasts over 3,900 stunning guest rooms and suites, each designed with elegance and comfort in mind. From the moment you step into your room, you'll be greeted with a sense of grandeur, with plush furnishings, marble bathrooms, and breathtaking views of the Las Vegas skyline. Whether you choose a classic room or opt for a lavish suite, you can expect nothing less than the utmost in luxury and sophistication during your stay.
Indulge in World-Class Dining Options at Caesars Palace
Caesars Palace is a food lover's paradise, offering a wide array of dining options that cater to every taste. From Michelin-starred restaurants to casual eateries, the resort boasts a diverse range of culinary experiences that are sure to satisfy even the most discerning palate. Indulge in the finest steak at world-renowned restaurants like Peter Luger Steakhouse or enjoy an authentic Italian cuisine at the award-winning Amalfi. With over 25 dining establishments to choose from, Caesars Palace guarantees a memorable dining experience for every guest.
Experience the Legendary Entertainment at Caesars Palace
When it comes to entertainment, Caesars Palace sets the stage for unforgettable experiences. The resort is home to some of the biggest names in show business, with world-class performers taking the stage regularly. From iconic residencies by legendary artists like Celine Dion and Elton John to dazzling productions like "Absinthe" and "The Colosseum," there's never a dull moment at Caesars Palace. Whether you're a fan of music, comedy, or magic, the resort's lineup of entertainment options is sure to leave you in awe.
Unwind and Rejuvenate at the Exquisite Spa at Caesars Palace
Indulge in the ultimate relaxation at the world-class spa at Caesars Palace. Step into a tranquil oasis where expert therapists are ready to pamper you from head to toe. The spa offers a wide range of rejuvenating treatments, from massages and facials to body wraps and aromatherapy. Unwind in the Roman-inspired baths, soak in the Jacuzzi, or take a dip in the sparkling swimming pool surrounded by lush gardens. At Caesars Palace spa, you'll experience a blissful escape from the hustle and bustle of Las Vegas.
Play and Win Big at the Thrilling Casino at Caesars Palace
Experience the excitement of Las Vegas gambling at its finest at the thrilling casino at Caesars Palace. Step onto the casino floor and be greeted by the sounds of slot machines, the cheers of winners, and the anticipation of big wins. With a wide selection of table games, including blackjack, roulette, and poker, as well as a vast array of slot machines including the best jackpot slots, there's something for every type of gambler. The casino also offers high-stakes gaming rooms for those seeking a more exclusive experience. Whether you're a seasoned player or a novice, the casino at Caesars Palace is sure to provide endless entertainment and the chance to win big.
Discover the Exclusive Shopping Experience at Caesars Palace
Shop till you drop at the exclusive collection of boutiques and designer stores at Caesars Palace. From high-end fashion brands to luxury jewelry, you'll find it all under one roof. Take a stroll through the Forum Shops, a Roman-themed shopping destination that boasts over 160 specialty shops and restaurants. Browse the latest fashion trends, indulge in designer accessories, or find the perfect gift for a loved one. With its elegant atmosphere and unparalleled selection, Caesars Palace offers a shopping experience like no other.
Enjoy the Vibrant Nightlife at Caesars Palace
When the sun sets, Caesars Palace comes alive with its vibrant nightlife, offering an array of entertainment options. The hotel is home to the popular OMNIA Nightclub, where international DJs spin the hottest tracks. For those seeking a more relaxed atmosphere, the stylish cocktail lounges, such as the Vista Cocktail Lounge and the sophisticated Vanderpump Cocktail Garden, provide the perfect setting to sip on handcrafted drinks and socialize. Whether you want to dance the night away or enjoy a quiet evening with friends, Caesars Palace promises an unforgettable experience.
Host Unforgettable Events and Conferences at Caesars Palace
Caesars Palace is not only a destination for leisure but also a premier venue for hosting events and conferences. With over 300,000 square feet of flexible meeting space, state-of-the-art technology, and a dedicated team of event planners, this luxury resort is the perfect place to make your next event a resounding success. From lavish weddings to corporate conferences, Caesars Palace offers a variety of venues to suit any occasion. The Julius Ballroom, with its elegant design and ample space, is ideal for large-scale functions, while the Forum Tower offers intimate meeting rooms for smaller gatherings. With its impeccable service and attention to detail, Caesars Palace ensures that every event is truly unforgettable.
Visiting Vegas? Check out the BEST Vegas has to Offer!
Immerse Yourself in History and Culture at Caesars Palace
Caesars Palace is not just a place for entertainment and events; it also offers a unique opportunity to immerse yourself in history and culture. The hotel's architecture pays homage to ancient Rome, with its iconic columns and grand statues, transporting guests to a different era. The Forum Shops, a luxury shopping destination within the resort, resembles an ancient Roman street with its stunning architecture and marble walkways. Additionally, Caesars Palace is home to several world-class art galleries, showcasing an impressive collection of contemporary and classical art. Whether you are a history enthusiast or an art lover, Caesars Palace provides a captivating experience that combines entertainment with cultural immersion.
Caesars Palace Las Vegas Review 2023
Caesars Palace Las Vegas Hotel & Casino is more than just a resort; it's a destination that offers an unparalleled experience. From the moment you arrive, you'll be immersed in a world of luxury, entertainment, and excitement. Whether you're seeking relaxation, indulgence, or adrenaline-pumping thrills, Caesars Palace has something to offer everyone. So why wait? Book your stay today and embark on a journey to the ultimate Las Vegas experience at Caesars Palace.